Head of Department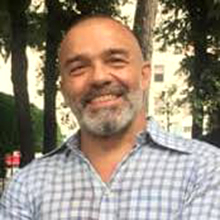 Luciano Galantini is full professor of Physical Chemistry at the Department of Chemistry of Sapienza University of Rome.
He was associate professor (2010-2020) and researcher (2000-2010) at the same Department and researcher at the University of L'Aquila (1996-1999).
He was visiting professor at:.
●  Hebrew University of Jerusalem, 2012;
●  Universidad de de Santiago de Compostela, 2009, 2007 and 2003-2005;
●  Universidad de Costa Rica, 2007.
He holds the following institutional positions:
●  Rector's delagate for the requalification of research laboratories
●  Head of the Chemistry Department
ORCID profile: https://orcid.org/0000-0001-5484-2658